Manduka Home Collection: Never Put Your Practice Away
I absolutely adore Manduka Yoga's products. They are beautiful, sustainable, well-designed, perform beautifully, and also withstand the wear and tear of a daily yoga and meditation practice with elegance and excellence. Their products truly delight all senses, for it's not just the beautiful patterns, colors, and textures of their yoga mats, towels, and blocks, but it's also the wonderful tactile sense they all impart. Their PRO mats have a heft, sturdiness, and grip to them that can't be beat. Their yoga towels grip well in hot classes, yet feel wonderfully luxurious to the touch. You won't get that chintzy, scratchy, toothy feel from their microfiber towels that you find in other brands. Their yoga blocks are strong and supple, and manage to hold up well after multiple uses, avoiding getting squished or dinged up easily.
Never Put Your Practice Away
Coordinating bolsters, blankets, mats, and blocks comprise this beautiful first home-practice collection from Manduka.
Yes, their mats are a little more expensive than the ones that you would pick up from competing retailers and at mass-market sport and outdoor stores. But I am telling you - if you are a dedicated yogi, you're going to want to treat yourself to one of their mats as a reward for your dedication to your own practice. Or maybe you're like me - someone who does yoga occasionally, has only picked up the practice recently, and is looking for a mat and accessories that will inspire them to come back to their mat day after day.
I would say that if we are talking about favorite colors, deep indigos and cool aquas are definitely my signature. They are also wonderful colors to think about and bring in to a meditation and yoga practice. Blues are calming, trustworthy, grounding, restful, and contemplative. Like the deep waters of the ocean or the vastness of the ever-changing skies, there is something elemental and everlasting about the color blue. Looking at my current yoga mat and accessory set-up, it's mostly a collection of blues and aquas to keep me grounded, peaceful, and contemplative during my practice.
Practice Om? Practice on and on.
Create a permanent place for your home practice with coordinating and luxurious products from Manduka Yoga's home collection.
That is why I LOVE Manduka's new Home Collection. Comprised of a new cobalt-blue mat, their cork blocks, a beautiful cotton blanket and indigo-shibori inspired bolster, it's a perfect mix of contrast and coordination that brings balance to your home practice space.

Their new marketing slugline is also genius. "Never Put Your Practice Away." I love that. To never fold up your mat and never put away your meditation blanket or home alter - what a gift. To have things as beautifully designed as possible so you can leave it all out, leave it looking inviting, leave it open, so you can come back to your mat with ease and a sense of elegance. For me, ease, excellence, and elegance are things I think a lot about and value much in life. This idea of making your home practice a destination of ease and elegance is such a beautiful and important idea when working to make yoga and meditation a more integrated part of your daily routine.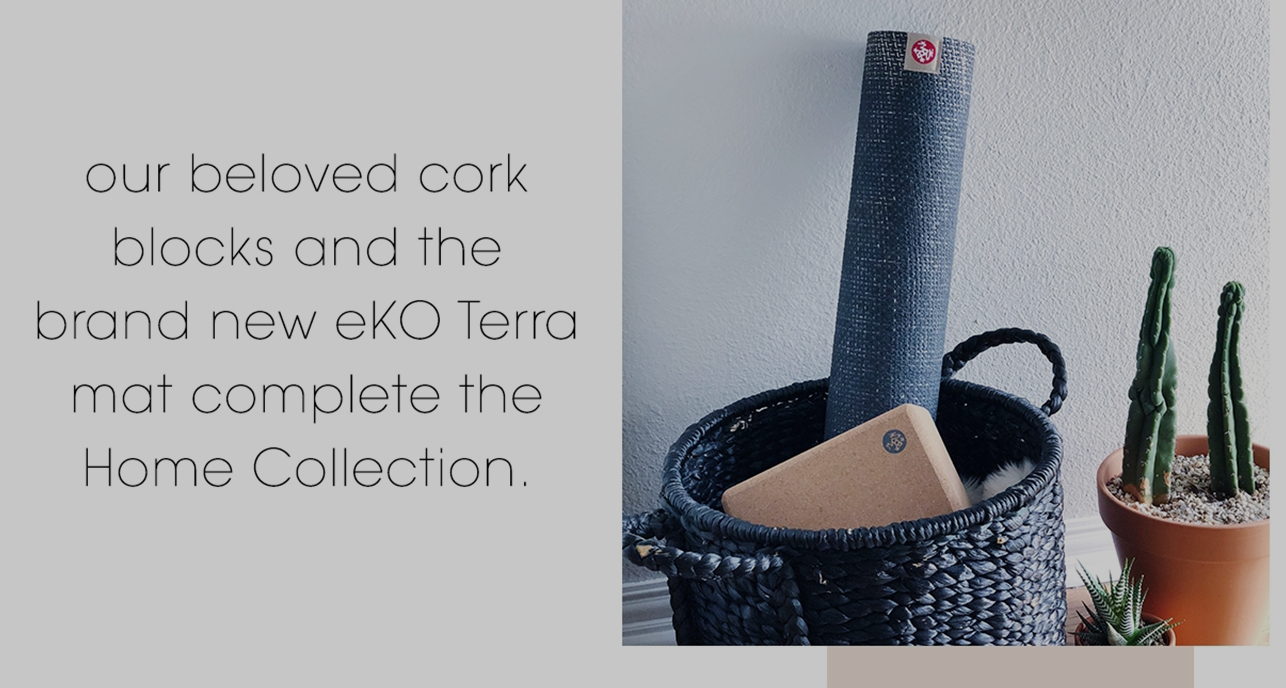 Contemplative Cobalt and Grounded Cork
Two colors and textures that work particularly well for a home practice space.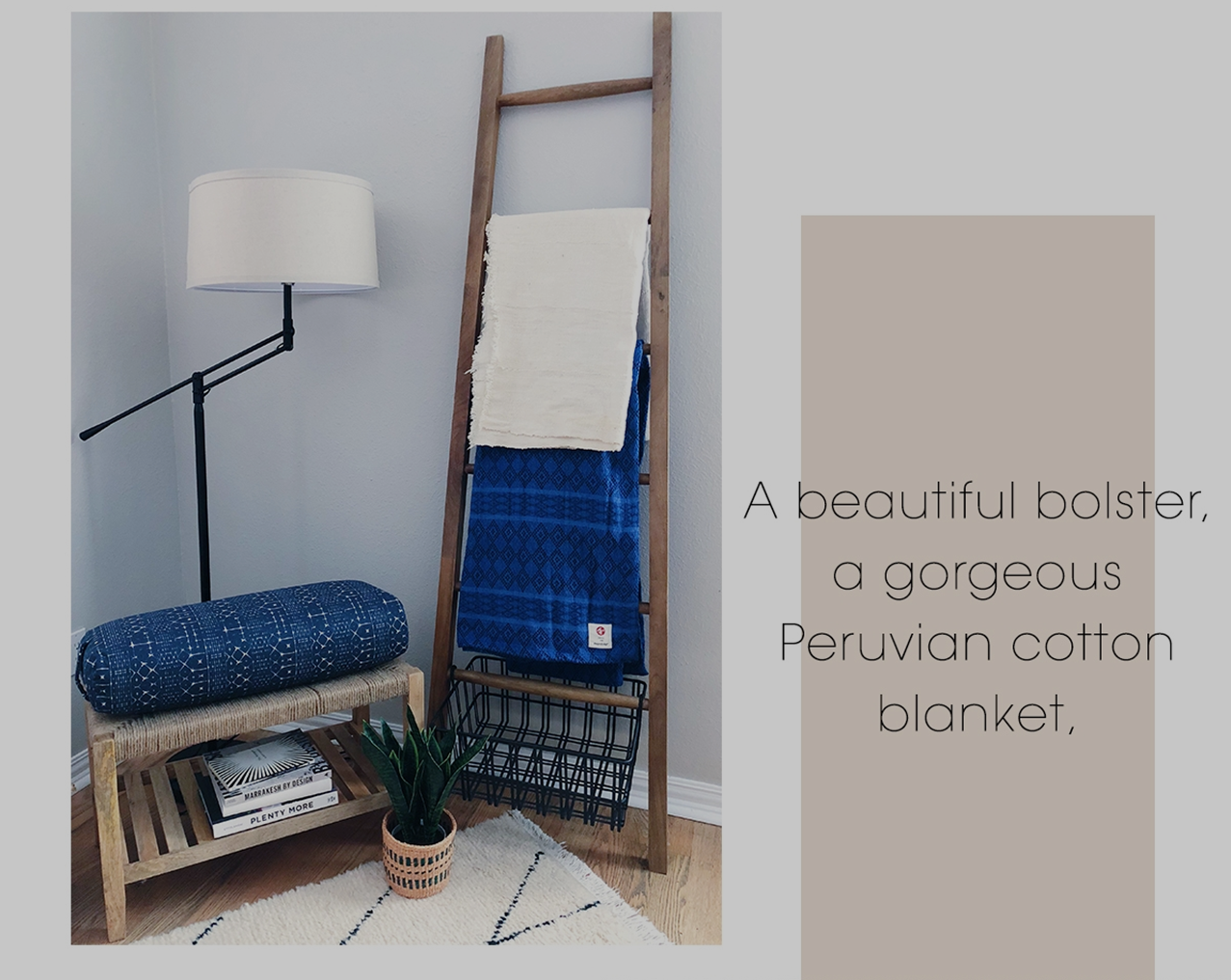 Carve out a Place for Contemplation
Add in elements like a bench, blanket, and bolster to create a meditation space.