2019 Planner Lineup
HOW TO SELECT YOUR PLANNER FOR THE YEAR AHEAD
It's about time for my first post of 2019. Things have been busy here. I've been looking for full-time work, Kon-Mari-ing my life, finishing up freelance projects, helping my boyfriend get ready for a move to LA, and writing a couple quick-turn film treatments. Add to all of this the fact that for a moment both of my Squarespace sites were down for a bit of maintenance and you can understand why I've been a bit silent. Anyways, now that most of that is behind me and I have a quiet snowy day to write, I wanted to launch right into my planner set-up for 2019, and hopefully share some tips and sources with people who may be wishing to launch into a daily planning and journaling practice of their own.
I'm a newcomer to the planner community, (I got started in 2017) but I've been a diarist since long before that. I've always kept a journal, diary, or some other type of personal notebook on my person since my Aunt gave me my first diary when I was seven-years-old. I have always loved the practice of writing down the details of my life, and out of all the positive habits I have tried on for size, daily journaling is the only one that has stuck with me since the beginning of time. Writing down the details of your life is one of the most restorative, meditative, and clarifying habits one can adopt. It helps you hold on to good memories, keep track of your personal wins, reflect on your life, and dream about the future. As a personal development tool, there's nothing better than a diary. Other than perhaps going to a therapist or having a good solid group of close friends to gab with, it's the best tool for sharing and examining your feelings and your life. Your journal is the one place that's completely yours. Fill it with your most private yearnings, deepest fears, greatest successes, and hardest struggles. It will never judge you, and it will always be there for you. You are unique, there's no one like you. So your planner will be different from everyone else's. And that's the point! Be creative, don't worry about trends, or spending tons of money on stickers, (although you can certainly do that!) Don't worry if you miss a day, or miss a week. Or even a month. Just remove those inserts and begin again. Or you can spend time back-planning if that feels better. Don't worry about having a system or planner like anyone else. The point is to have fun experimenting, shopping, jotting down notes, and decorating until you find a planner, or planners plural, that feel like you and work for your life. The point of planning and journaling is four-fold: to keep you organized, to keep you focused on your goals, to spend time in reflection, and to dream up what your best life looks like in the future. I can guarantee that by beginning your own journaling or planning process, you'll experience amazing benefits and see tons of positive results begin to manifest in your life. So without further ado, here are the current tools I am using and how I am putting them to work. I hope this post leaves you inspired to set up your own system for journaling and planning.
The tools I'm using to organize and memorialize my life! Let's do this.
THE KEY TO AssemblING Your Stationary Squad: KNOW THYSELF
Every stationary addict loves the time from November to December when we can think about treating ourselves to a new diary, planner, or set of inserts. Deciding on our ideal planner line-up can be super fun, and it can also be a bit overwhelming. There are so many choices out there, and so many beautiful diaries we could potentially spend our money on. It's easy to get overly-zealous and wind up over-buying.
The best way to select your line-up is to know yourself. Know your lifestyle, how you'll be carrying your planner, what you need to write down and reference on a daily basis, how you want your journaling and planning process to manifest. Then you can focus on buying only what you know will work for you. Knowing what paper sizes feel the most comfortable, how much you plan on journaling each day, and how often you'll be carting your planner around in a bag are also important elements to consider. Start with one thing and just use it for awhile. See what works for you. When you first start out, it's common to switch up your system a couple times before you find what works for you. For that reason, I suggest starting out with brands and products that aren't terribly expensive at first. There's nothing worse than thinking you might like to plan in personal-sized rings and spending $70 on a leather planner before you discover that a letter-sized disc-bound system is what will really give you the necessary space and functionality you'll need. So, before you have spent a solid year or more figuring out what works for you, I suggest starting out by purchasing from places like Michaels at first. You can find rings, traveler's notebooks, and disc-bound planner systems there at a fraction of the cost of what you will find at brands like Kikki K or Filofax. Then, once you know what system works best for you, you can venture into the world of higher-quality products, because you'll know you won't abandon them.
WHAT WORKS FOR ME
After two years of experimenting with some different set-ups, I've found that the best set-up for me is still an A5 ring-bound planner. It's the only system I've been able to stick with for two years without abandoning it or chucking it. I am a completionist. I like to have continuous records of my diary. Keeping everything in the same paper size and binding format makes it easy for me to do that. Therefore, I focused on buying only A5 ring-bound planners to use as my planner in 2019. I do admit that despite my knowledge of the risks of over-buying, I still overbought this year, and have simplified all my essentials down into one A5 binder, even though I invested in three different insert companies, but that is the beauty of a ring-bound planner system. Pages can be combined together in the same binder from different insert companies into one streamlined system. Even if all the inserts were originally shipped in different books, you can mix and match until you get it exactly right. Interestingly, the binder I had not planned to buy is the one I love the most and the design and I am now using daily.
A great 6-ring A5-sized planner with a flexible cover and lay-flat design. Feels like carrying around a gigantic brick of a notebook around. Additional bonus: it's actually pretty cheap, and only looks expensive.
Main Planner: Filofax Domino A5
I love my Filofax Domino. I originally purchased it thinking I would use it soley as a bullet-journal type reference notebook, filled with lists, collections, and reference material. That is how I started using it. I didn't know that the diary would be shipped with a whole set of dated week-on-two-pages inserts. The paper that was included with it is beautiful quality, and I love the minimal design. It's a great value at $40. If you have been wanting a Filofax but have gotten scared away from making the jump due to the $120 price point of their 'Original' planner, I would recommend trying out the Domino line first to make sure you like it. You get the same high-quality inserts and content, but because it's a faux leather one doesn't have to shell out quite as many bones. Unless I am going to a coffeeshop to do deep work and know I will need my A5, my main planner stays on my desk, open at all times. I don't take it in my purse on-the-go, because it's heavy! It literally has everything in it. From weekly plans to detailed recycling and composting rules for the city of Minneapolis, this book is the bible by which I live by
A great compact little design perfect for on-the-go planning.
Purse Planner: Kikki K. 'Own Your Story' Medium Zip
I also moved into a Kikki. K. Medium planner in after six weeks of using my A5 exclusively. This is my personal-sized planner that lives in a twill planner bag in my purse and comes with me on the go. After lugging my Filofax around in my bag every day to meetings and on errands, I realized it was definitely overkill to bring it with me everywhere. It was putting unnecessary strain on my purse from lugging this brick of a planner around, and it was adding unnecessary wear and tear to my main planner from bringing it everywhere. So, I added this little guy in. I adore using this little planner as it is perfect for daily logs and lists, and on-the-go planning. It's my partner in crime for running errands and ensuring that when I am out and about, I can consult my planner quickly and know exactly what appointments I have going on in the coming weeks.
A desk-sized planner in A4 size that I use as a daily record and to improve my a.m. writing practice.
Morning Pages Journal: Papersource Luxe Page-a-Day Marble Planner
My Papersource daily diary has been working out well for me so far as a morning pages journal. (If you're interested in doing your own morning pages routine, or learning even what the heck that is, I recommend 'The Artist's Way' by Julia Cameron.) I used this product last year for the same purpose and it was perfect as a journal, and I can say that this year I am even doing a better job of writing every day in it! Some people in the community use their planner as a scrapbook and journal. I don't. I have tried that method in the past, but I find it gets visually too cluttered for me and when I can't keep the practice up consistently throughout the year due to times of busyness, it bums me out. Instead, I journal in a separate book, and I like this book to be bound. That way, my calendar plans, appointments, and to-do's are kept in a separate place from my daily diary entries and more personal reflections. I also like how with this book, all of my journal entries for the year can be kept neatly organized together in one little keepsake. This journal is large, A4 sized, so I keep this exclusively on my desk and write in it usually first thing in the morning or at night. (I use it in a similar way to how a lot of people in the planner community use a Hobonichi Techo.)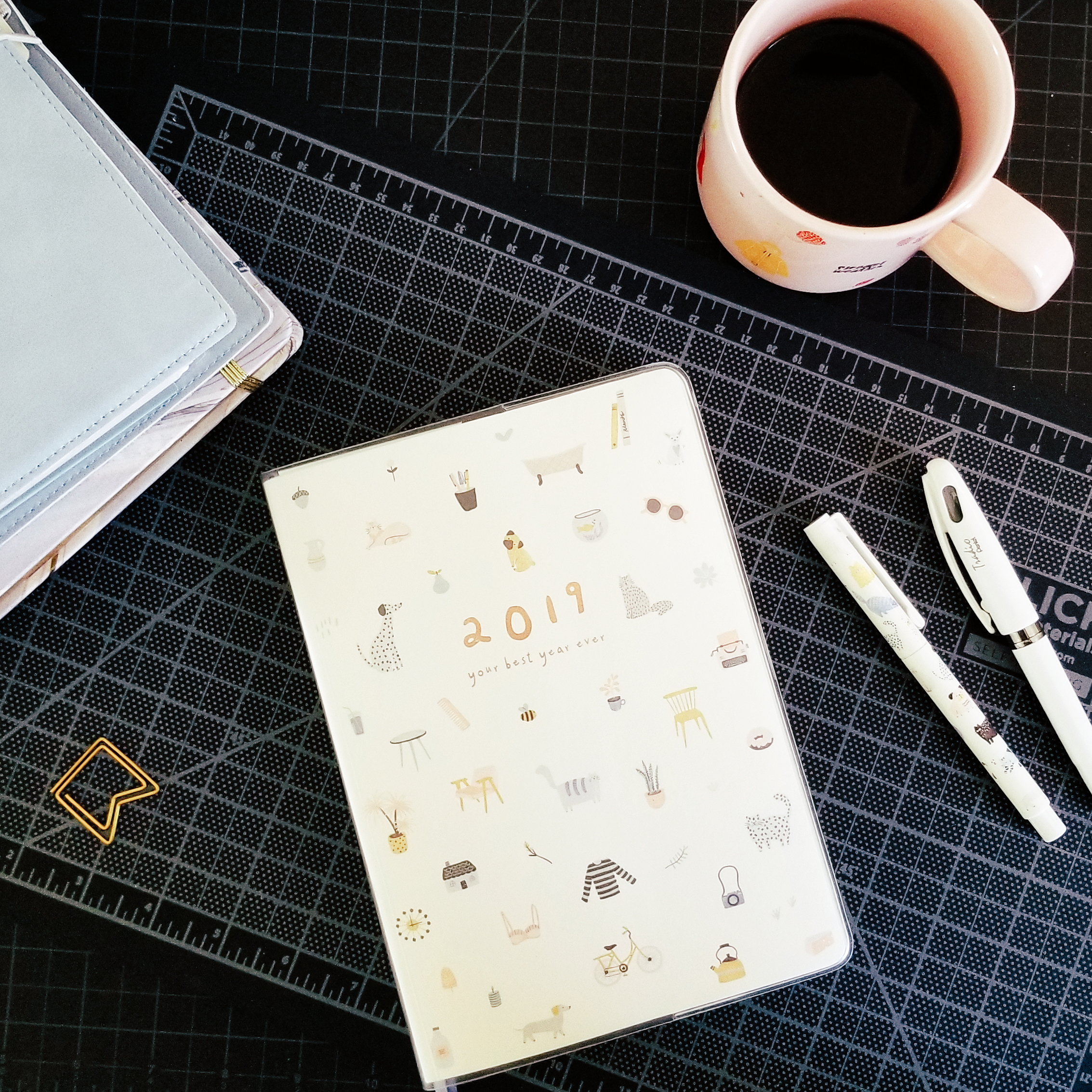 HOW FRIGGIN' CUTE ARE THE PUGS AND HOUSEPLANTS ON THIS DIARY?! I literally can't even with this one.
Gratitude Journal: Kikki K. 'Sweet' Weekly Diary
Finally, this Kikki K. weekly diary was an unplanned planner purchase, but it's definitely in daily rotation. I am using it exclusively as a gratitude journal. It was just too stinkin' cute to not pick up. Every night, I write down one to two things from that day that I was grateful for. I try to be super specific each time. From the size of this planner, to the cute illustrations inside, to the great design with the laminated plastic cover, just holding this diary and opening it up each day brings me so much joy.
Liked but no longer using: Lucy Celebrates 'Intentional Planner' Inserts
These inserts are great, but the two-day-per-page layout was just too much for me to keep up with and is unnecessary given the fact that I already journal and record my gratitude in separate systems.
(Photo Credit: @lucycelebrates 2019)


What I've Abandoned: Lucy Celebrates Inserts.
I've been using my Lucy Celebrates inserts for the last two months, and I've decided that I am not going to continue them into March, mainly because the fact that a two-pages-per-day insert takes up too much real-estate in my planner to justify continued use. I already have a dedicated daily journal, and half of these inserts give devoted space to journaling. That's just too much redundancy. The nice thing about these inserts is that one can purchase them in three-month intervals. So I feel less bad about not continuing to use them, because I only paid for three-month's worth of inserts and have so far used them for both January and February. What I will miss about these Lucy Celebrates inserts are the weekly planning pages where I can fill in what tasks I would like to get done on each day and the monthly goal-planning sheets. Not to mention the paper quality is amazing – 120 gsm people! I may need to see what else is in my stash that I can use up to replace the monthly and weekly goal planning sheets. (I'm really devoted to using up what I have in my stationary stash this year!) The great thing about this purchase that I do not regret, is that although the binder the inserts came in isn't of the highest quality, it is one of the few planners I have found that comes with extra -large rings. (About 40mm.) I love the fact that I can easily archive a whole year's worth of inserts in this binder.
Sources
If you are interested in purchasing any of the items I have shared here in this blog post, below is a full list of every single insert, planner, binder, and notebook I am using. Some of these links are affiliate links, meaning that I receive a small kick-back from the company if you wind up making a purchase from the link I've provided. However, I am not affiliated with any of these companies directly, and this post was not sponsored. I spent my own money on all of these products, none of them were gifted to me. They are truly things I find to be of exemplary quality that I am recommending because I know others would get benefit out of them as well. So if you feel like supporting me and my blog, and find the items I've recommended in this blog to fit your lifestyle, click and shop away!

note
I know what I like to use. I know the quality of paper I go for, the style I like, etc. My planner and diary becomes a keepsake that I display proudly on a shelf for years after I completely fill them both out. I carry them with me to every meeting, and I leave them out on my desk all day long. They become a part of me. There's a certain quality and design I like to have knowing these items will be in my life for a long time. I go for leather or ideally vegan leather planners and keep them for years. I don't buy designer purses, nor do I get manicures or fancy haircuts or belong to a gym, so this luxury is one I do prioritize for myself. For someone who uses their planners and journals 365 days a year, the cost-per-wear of each planner winds up being an economical way to treat myself to well-designed organization. However, I realize that not everyone else feels this way or would use their stationary in this same manner. That's wonderful too! I'm not writing this post thinking everyone should be and act just like me. Quite the contrary! I want people to find what works for them! This post is intended to get you thinking about how you strategize your own set-up, and to get you asking questions about your priorities and needs. The main reason why people abandon the practice of daily journaling or planning is because they chose a product that doesn't fit their lifestyle. I want you to get the amazing benefits of journaling and planning that I have, whatever products you decide to use and at whatever price is best for you.
In the weeks to come, I will look forward to sharing a full walk-through of my Filofax Domino set-up with you. I think the system I have put together this year really works for me, and I'm excited to go in depth with what I keep inside each one.
Happy scribbling!
Libby